Importing wedding gowns and other apparel into the United States is big business for importers. Did you know there are special labeling requirements for imported wedding gowns? Here's what you need to know.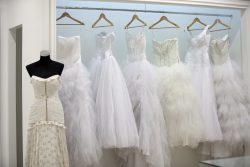 Labels for Wedding Gowns
Label law rules. If you import wedding gowns, there is garment label information you need to know. The Federal Trade Commission's (FTC's) Care Labeling Rule requires labels to be affixed to both imported and domestic wedding gowns and other textiles.
Labels for wedding gowns must also list four key pieces of information:
Manufacturer of the wedding gown.
The manufacturer's Registered Identification Number (RN), which is issued to U.S. companies and registered by the FTC.
The retail store name where the wedding gown will be sold.
The RN or business name of any company actively involved with the distribution of the wedding gown.
The label may be sewn or affixed to the wedding gown as a hand-tag and must be hidden out of plain sight.
Fiber Content of Wedding Gowns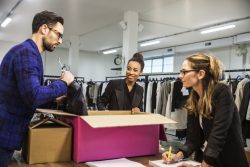 Wool decides whether or not your wedding gown label needs more details. If a gown doesn't contain wool, you must list the generic fiber names and percentages of each fiber used in descending order by the percentage of weight. Any fiber that makes up less than 5 percent of the item's weight can be labeled as "other fiber."
If the wedding gown contains wool, follow the same requirements but the other fibers don't need to be listed in descending percentage order.
Country of Origin
Follow these rules for labeling the origin of your wedding gowns:
Imported wedding gowns must label the country of origin.
Wedding gowns made solely in the U.S. with all U.S. materials must be labeled "Made in the U.S.A."
Gowns made in the U.S. with imported materials must label where they were manufactured and list the imported fabrics/fibers used.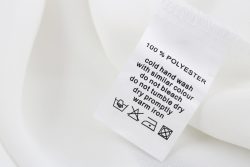 Care Instructions
Luckily for buyers, importers must include at least one safe cleaning method listed on a sewn care label for wedding gowns. If the gown can be washed, the normal washing process must be noted.
Wedding Gown Clearance
Remember that Licensed Customs Brokers can oversee the entire apparel import process for you. Now that you know everything you need to know about the Care Labeling Rule and the ins and outs of wedding gown importing, working with a Customs Broker is the best way to make sure your gowns pass inspection paperwork and import process hurdles.
AFC International will oversee the entire apparel import entry level process, making sure you stay compliant so you can focus on your wedding gown imports. Call us at 800-274-2329 or get a quote today to get started!