Imports coming from Europe arrive through several U.S. east coast ports of entry each year. Follow our lead as we walk you through what you need to know about east coast ports of entry so your imports arrive quickly and efficiently.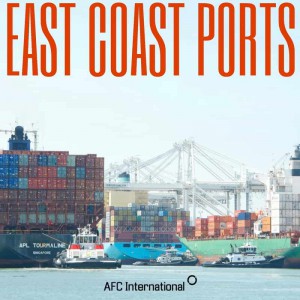 Most Popular Ports of Entry
U.S. east coast ports of entry are found in the following states:
Maine
New Hampshire
Massachusetts
Rhode Island
Connecticut
New York
New Jersey
Pennsylvania
Delaware
Maryland
Virginia
North Carolina
South Carolina
Georgia
Florida
View a list of ports in each state and contact information for each port to find the information you need for the port of your choice. The U.S. Customs and Border Protection (CBP) also offers a port of entry locator to find the port that best suits your needs as an importer.
Popular U.S. East Coast Ports of Entry Commodities
Popular commodities passing through U.S. east coast ports of entry include:
Automotive parts
Pharmaceuticals
Clothing
Handbags and satchels
Computers and computer equipment
Industrial supplies and materials
European Countries Importing Goods to the United States
The top 10 European Union countries importing goods to U.S. east coast ports of entry include:
Germany
Italy
Spain
Netherlands
France
United Kingdom
Belgium/Luxembourg
Sweden
Finland
Austria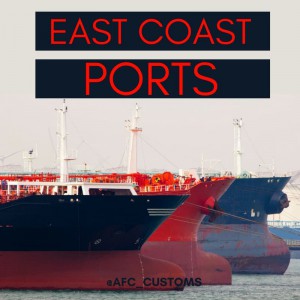 Port of Entry Codes
The CBP has a four-digit classification code that classifies all U.S. ports of entry with a valid district/port code. This four-digit number must be used on your import paperwork when preparing your imports for entry into the U.S. A complete listing of CBP port codes can help you classify your port correctly on your import paperwork.
At ports of entry, CBP officers are assigned to review imports, collect duties and enforce all U.S. import and export laws and regulations.
U.S. Importing Laws and Regulations
The CBP will be closely enforcing laws and regulations for all of your imports and import paperwork. Commodity license requirements and documentation the CBP requires can be handled by Licensed Customs Brokers. The import document paperwork includes:
A commercial invoice that lists the purchase price, country of origin and tariff classification of your items
A packing list detailing your imports
A bill of lading that lists goods in the form of a receipt
An arrival notice from the U.S. agent