Are you seeking the assistance of a Licensed Customs Broker to help you import goods safely and quickly? Learn what you need to know to set up a Customs Broker account today.
Fill Out a General Account Application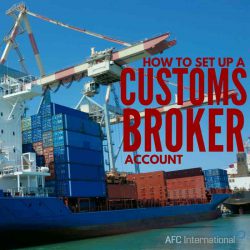 The General Account Application informs Customs Brokers about your basic personal information, which includes:
Name of your company and address
Social security number and Federal Tax ID
Company type
State of incorporation
Accounts payable contact information
Complete a General Account Questionnaire
To serve you better as an importer, Customs Brokers typically have you fill out a General Account Questionnaire.
This questionnaire wants to know if your import business is related to its foreign shippers and sellers. You must disclose any relationships with foreign shippers or sellers if you:
Are related to them
An officer or director of the organization
Business partners
Have a controlling interest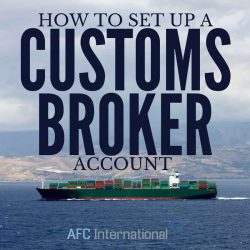 You must also disclose if you are furnishing any assets to the import manufacturer, if you are making any additions or adjustments to the invoice used to make import entry and if there are any commissions being paid to a buying or selling agent.
Make an Account Profile
Customs Brokers require new import clients to complete an Account Profile that lists your contact information, billing information and the type of payment terms requested. This profile also requires shipper verification and customer shipment, billing and rate information.
Sign a Customs Power Of Attorney Document
Customs brokerage firms require clients to sign a Customs Power of Attorney document that allows a customs broker to:
Make endorsements on bills of lading
Sign, seal and deliver for and act as the grantor for any bond required by law
Sign and swear to any document and perform acts necessary to import goods
Act as an authorized agent for exports
Make transactions for importing and exporting at any port
Fill Out an Importer Security Filing Form
The Importer Security Filing Form, known as a 10+2 filing, is crucial information for the clearance process of your imports. It includes manufacturer/supplier information, the seller and buyer name and address and port loading and discharge information. You must also disclose your ISF filing number, the country of origin of your goods and a detailed description of your goods.
Find Out Data Elements for ISF 10+2 Filings
The 10+2 ISF filing requires importers or their agents and vessels to file data electronically with the U.S. Customs and Border Protection (CBP) for all in-bound vessel import shipments. Find out what data elements are required on ISF 10+2 filings.
Put Together Importing Resources Paperwork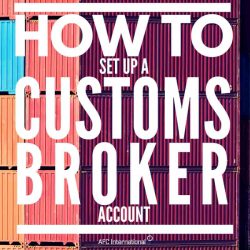 The following import resources must be put together by an importer or a Customs Broker:
A commercial invoice that lists the purchase price, country of origin and HTS tariff classification
A packing list detailing your imports
A bill of lading that lists goods in the form of a receipt
An arrival notice from the U.S. agent
Set Up a Customs Broker Account
Setting up a Customs Broker account ensures your import paperwork is filed properly and the details are handled brokers trained to navigate the import customs clearance process. Customs Brokers can help your imports arrive on time and handle all of the detailed paperwork for you to avoid import clearance issues.