July is a big month for businesses buying imports from overseas to prepare for the holiday merchandise season. Are you preparing to buy imports from overseas? Here's what you need to know.
Time is of the Essence
Production takes time so plan ahead. When you order in July you'll be waiting anywhere from one to four months to get your order manufactured. Now you know why Christmas really does start in July!
Place an Order
Have you found an overseas vendor with which to do business? Many vendors won't make your products until you place an order and make a payment to cover the cost of materials for your imports. Be prepared to place a large minimum order for overseas orders being imported into the United States.
Payment Procedure
Cash is key. Most overseas manufacturers want to be paid via wire transfer before they begin your order. An initial wire transfer to pay for the cost of materials is sent first, followed by another wire transfer to pay for the rest of the agreed upon order price. Some escrow services are available to help with payment issues but wire transfers will expedite your overseas order purchase.
Practice Makes Perfect
If this is your first rodeo ordering imports from an overseas manufacturer, don't be surprised if your order isn't perfect. It usually takes a couple of orders to get your products looking exactly the way you expected them as you familiarize yourself with your new client.
Language Barriers
When ordering imports overseas, expect to deal with a language barrier. Many vendors you deal with over the phone won't speak English very well and this could lead to expectations for your imports not being met.
Our suggestion? Use email.
Preparing Your Imports Shipment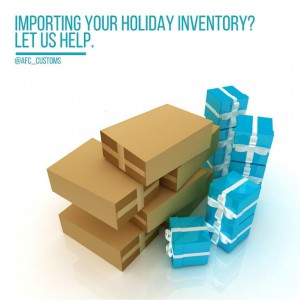 Once your products are ready to be shipped determine whether they are coming by air or sea.
These items will be required to clear customs:
A commercial invoice lists the declared value of your items.
A packing list details what you are importing.
A detail sheet outlining how the products are manufactured to determine your duty, or tax classification. Need help? Use this duty calculator.
A bill of lading lists goods in the form of a receipt given by the carrier to the person consigning the goods.
Working with the CBP
It's time to achieve import clearance from the U.S. Customs and Border Protection (CBP) when your goods arrive on U.S. soil. The CBP requires that you file an imports entry summary within five working days of the arrival of the goods.
If you are unable to file an entry within that time, you can file for a 25-day extension. There is a big incentive to make timely CBP filings.  If an entry is not filed, the goods will be transported to a CBP bonded warehouse, where they will be sold at public auction if they remain there for more than six months.