Are you an importer of cosmetics? Follow our importer's handbook to clearing cosmetic imports into the United States quickly and properly.
How Are Cosmetic Imports Defined?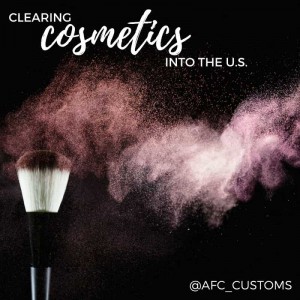 Cosmetics, better known as makeup to consumers, are regulated by the U.S. Customs and Border Protection (CBP). Foreign cosmetics that are misbranded or appear to have been tainted will be refused entry to the U.S. Cosmetics are defined as anything used to color or enhance the face or other parts of the body. Anything that is used to beautify the skin or external features is inspected by the CBP. Not all cosmetics are inspected or sampled upon entry to the U.S.
Examples of Cosmetic Imports
Examples of beauty products that the CBP inspects include:
Lipstick
Eye shadow
Nail polish
Non-medicinal skin lotions
Sunscreen and tanning lotions
The CBP does not inspect the following items:
Products used to treat medical conditions
Colored contact lenses
Makeup application tools (brushes)
FDA Regulates Cosmetic Labeling
The U.S. Food and Drug Administration (FDA) regulates the labeling of makeup and cosmetics that are sold in the U.S. Cosmetics require a display label and a declaration of ingredients label. Labels must be both on the inside and outside of the wrapper/container. For example, if a cosmetic is packaged in a bottle that is placed inside a box, the label must be affixed to both.
Items Required on Cosmetic Display Labels
The following items are required to be placed on cosmetic display labels:
The name of the product
Identification of the type of product
Name of the manufacturer and distributor
An accurate description of the amount of product contained in ounces, pints, etc.
Declaration of Ingredients Label Rules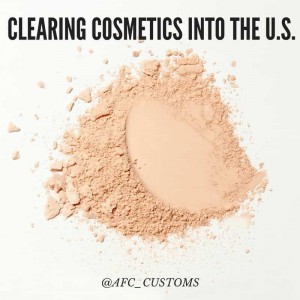 There are specific rules in place for the declaration of ingredients label. This label must:
Be easy to locate on the container
Have lettering that is not less than 1/16th of an inch in height. If the total space available for the label is less than 12 inches, the lettering cannot be less than 1/32nd of an inch high.
List ingredients in descending order, starting with ingredients with the highest concentration first. Ingredients that are added for color or make up less than one percent of the total product, though, can be listed in any order.
Color Additives
Cosmetic products and ingredients are not subject to pre-market approval by the FDA except when referring to color additives. Color additives must be safe for consumers, labeled properly and must be pre-approved for their intended use in cosmetics.
Reasons Why Cosmetics Are Refused Entry to the U.S.
Cosmetics can be refused entry into the U.S. for the following reasons:
Ingredients deemed unsafe
Microbial contamination
Labeling violations
Classify Your Cosmetics Properly
It is important to have your cosmetics classified correctly. Under Federal regulations, the importer is responsible for the proper tariff classification of their imports. The Harmonized Tariff Schedule (HTS) is an internationally recognized system of names and numbers to classify your goods. The CBP makes the final determination of the proper duty rate for your items.
File Other U.S. Customs Forms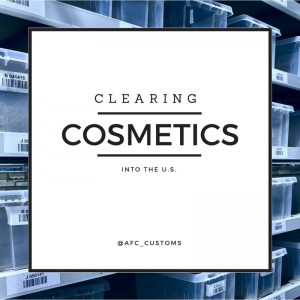 Import requirements and paperwork the CBP and other government agencies mandate can be handled by Licensed Customs Brokers. The following import paperwork should always be included:
A commercial invoice that lists the purchase price, country of origin and HTS tariff classification
A packing list detailing your imports
A bill of lading that lists goods in the form of a receipt
An arrival notice from the U.S. agent
Hire a Licensed Customs Broker
Working with a licensed customs broker is the best way to ensure your documents are filed correctly and penalties are avoided. Customs brokers can help your imports arrive safely in the U.S. while avoiding import process hurdles.