Incoterms are the internationally-accepted definitions and rules of interpretation for most commercial terms. The terms are used worldwide in international and domestic contracts for the sale of goods. Learn more about Incoterms and why they are so important with these most popular Incoterms questions.
What Are Incoterms?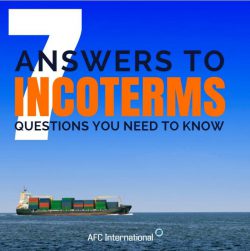 Incoterms are three-letter trade terms used in international/domestic sale of good contracts. The rules were developed and maintained by experts and practitioners brought together by the International Chamber of Commerce and have become the standard in international business rules.
What Do Incoterms Do?
Incoterms offer rules that outline the transfer of goods responsibilities for sellers and buyers. They also assign transportation costs and responsibilities connected with the delivery of goods between importers and exporters. This allows for a reduction of misunderstandings among traders, which reduces trade disputes and lawsuits.
What Do Incoterms 2010 Categories Do?
Incoterms 2010 are three-letter standard trade terms that are the most recent revision of Incoterms. They prevent misunderstandings by clearly stipulating the obligations of buyers and sellers.
Incoterms are vital to a company's commodities industry when exporting from the U.S. with the weight on export categorization and encrypted controls.

Can You Use Incoterms 2000?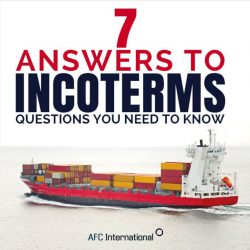 The International Chamber of Commerce and all contracts made under Incoterms 2000 remain applicable, even after 2011. Parties involved in a sales contract can agree to use any adaptation of Incoterms after 2011 but their version must be clearly stated in the sales contract.
Can Incoterms be Used to Determine the Ownership of Goods?
No. This should be clarified within your contract.
Where are Incoterms Listed?
It is important that Incoterms are stated on the commercial invoice, which also lists the purchase price, country of origin and tariff classification for your imports. Ocean freight charges and freight insurance should be stated on the commercial invoice to ensure the charges are deducted from the shipment value, if included.
The U.S. Customs Forms page lists the other forms you need to file for your imports.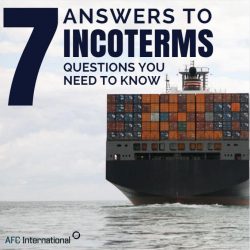 What are the Incoterms Definitions You Need to Know?
The proper Incoterms must be assigned to your goods to ensure the proper commercial definitions for your imports.
Read the Incoterms definitions and review the Incoterms chart to learn more about the definitions.