While this topic makes us think about Halloween and horror movies, shipping blood samples is actually a highly regulated business and it's critical to follow the proper importing procedures. We have the tips you need for shipping blood samples safely and effectively.
Blood Importing and Exporting is a Big Industry
Blood importing and exporting is a big industry. Human or animal blood is the 14th most traded product and the 17th most complex product, according to the Product Complexity Index (PCI). Human or animal blood can also be classified as toxins or vaccines. All of these are extremely important to the medical industry and the health of patients world-wide.
Top Blood Exporters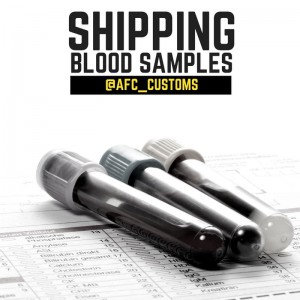 In 2015, total human or animal blood exports totaled $127 billion, according to The Observatory of Economic Complexity.
The top exporters of human or animal blood are:
Germany $20.8 billion
The United States $19.3 billion
Switzerland $18.7 billion
Belgium-Luxembourg $12.6 billion
The Netherlands $11.5 billion
Top Blood Importers
The top importing countries of human or animal blood are:
Germany $18.12 billion
Belgium-Luxembourg $13.8 billion
The U.S. $12.4 billion
The United Kingdom $9 billion
France $7.45 billion
Importing Biological Material is Highly Regulated
Biological materials of a public health nature such as blood, vaccines and toxins are highly regulated. These biological materials require import permits from either the Center for Disease Control (CDC) and/or the U.S. Department of Agriculture (USDA).
USDA permit applications can be found online.

Blood Materials Requiring Import Permits
The following biological materials require an import permit and an import application process: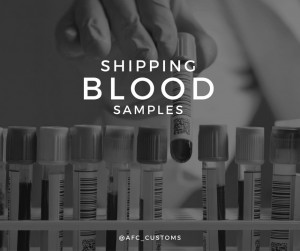 Animal or human body fluids, tissues or body parts
Blood/blood products
Feces
Bacterial, viral and fungal isolates
Environmental samples (air, water, soil surfaces, etc.)
Genomic material (DNA, RNA, genomic vectors, plasmids)
Human remains
Vaccines/drugs/reagents
Live animals
Select agent isolates
CDC Shipping Blood Samples Categories
The CDC regulates the shipping and packing of blood samples into the following three categories:
Category A: Infectious substances affecting humans or pets
Category B: Medical specimen taken from a population where infections agents are likely
Exempt: Medical specimen taken from a low-risk population and not known to contain infectious agents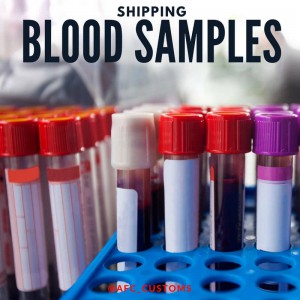 CDC Shipping Labels and Permits
When you are shipping blood samples, they require the proper CDC shipping category label, which mandates what kind of shipping requirements are needed to ship your package safely. Request the proper import permit to ship your blood samples properly.
Each country has different shipping information protocol for biological materials, so make sure you follow procedures closely during the import process.
U.S. Importing Laws and Regulations
The U.S. Customs and Border Protection (CBP) closely monitors and enforces laws and regulations for all of your imports and import paperwork. Due to Customs import and documentation requirements, most importers choose to have their imports handled by Licensed Customs Brokers. The import document paperwork includes:
A commercial invoice that lists the purchase price, country of origin, and tariff classification of your items
A packing list detailing your imports
A bill of lading that lists goods in the form of a receipt
An arrival notice from the U.S. agent