Shipping imports from Europe to the United States is a big operation that needs to be handled properly to achieve import clearance. AFC International has the import shipping information you need to handle the import process quickly and effectively.
Popular Shipping Imports From Europe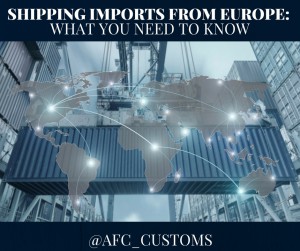 Shipping containers that arrive via ships come in daily to U.S. ports carrying European imports. Popular imports include:
European cars, car parts and engines
Food
Beverages
Consumer goods
Capital goods
Industrial supplies and materials
Popular European Exporters
Do you need to target the top European exporters? If you are shipping imports from Europe, here are the top 10 European Union export countries you're likely to do business with and the average amount of 20-foot container ship loads (TEUs) they export annually:
Germany (3.32 TEUs)
Italy (1.8 million TEUs)
Spain (1.7 million TEUs)
Netherlands (1.5 million TEUs)
France (1.4 million TEUs)
United Kingdom (1.3 million TEUs)
Belgium/Luxembourg (1.1 million TEUs)
Sweden (599,000 TEUs)
Finland (522,600 TEUs)
Austria (417,100 TEUs)
United States Laws and Regulations
On the home front, the U.S. Department of Customs and Border Protection (CBP) is the agency that enforces the laws and regulations for all of your imports and import paperwork. Commodity license requirements and paperwork the CBP requires can be handled by Licensed Customs Brokers. That import document paperwork includes:
A commercial invoice that lists the purchase price, country of origin and tariff classification of your items
A packing list detailing your imports
A bill of lading that lists goods in the form of a receipt
An arrival notice from the U.S. agent.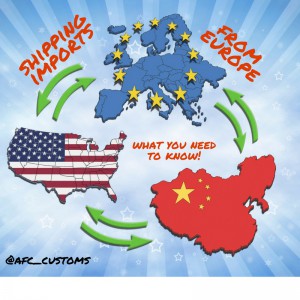 Follow European Importing Laws
Don't forget that each individual European country has their own set of rules and regulations you must follow to transport your imports out of the country and get them en route to the U.S. Make sure you get the exact import duty, or tax, rate for your imports.
Find Out What Containers You Need
Containers rule in the world of shipping imports from Europe. The three main types of containers used to ship imports overseas include:
20-foot containers
40-foot containers
40-foot HC (high container) containers
Count and measure your imports loads to decide the proper container you need for your imports. The most popular importing containers are the 20-foot and 40-foot HC containers.
All imports being shipped overseas on ships also require an Import Security Filing (ISF) to be filed with the CBP no later than 24 hours to the loading of cargo on your vessel. Your Licensed Customs Broker can help you with this filing, which is the responsibility of the importer to file.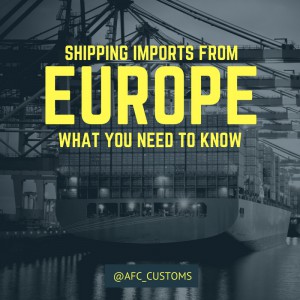 Insure Your Imports
Your European imports are likely worth a lot of money, as importers often ship in bulk to save on costs. It's important to protect the cost of your imports from damage during the import shipping process by insuring the imports with the proper amount of marine insurance. Shipments are likely to be moved as the vessels rock back and forth when making their voyage overseas. The amount of insurance you need should be higher for certain items, such as electronic equipment. Marine insurance is optional but highly recommended for European imports.
Enlist the Services of a Licensed Customs Broker
The import customs clearance process can be a maze to get through effectively. A Licensed Customs Broker can help your imports from Europe arrive safely on U.S. soil while avoiding import process hurdles.