The year 2015 is on the horizon. Here at AFC International, we had a great 2014 helping our customers import their goods into the United States. Nothing is more important to us than our customers' success. Our highly trained and knowledgeable staff handled international shipping imports, and we are looking forward to doing the same in 2015. We wanted to take a look back on the year, and give you our top U.S. importing blogs of 2014.
One of the major stories of 2014 was the West Coast Port Congestion. Cargo congestion in the ports of Los Angeles and Long Beach backed up container ships at a record pace. The Pacific Maritime Association (PMA) helped negotiate and represent over 70 multinational ocean carriers and maritime companies during the congestion. There were talks of port congestion surcharges being implemented, but on 11/18/2014 the surcharges were suspended because the effectiveness of the surcharge was a major factor.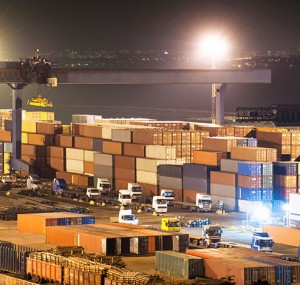 Here at AFC International, we kept an eye on the congestion. In our second update, we focused on the impact of the congestion. The food industry took a major hit, especially the potato industry. Importers were also forced to ship through alternative methods such as air, however, air cargo rates were higher because of the demands. We are still keeping an eye on the congestion, as it is an on-going situation. Read more about this important issue.
Our goal is to provide relevant and industry standard information to the customs brokerage community. If you're new to importing, you'll want to know the basics. That is why we wanted to provide information on the duties and functions of a customs broker. Thousands of importers bring cargo into the United States each year. Importers must know the terms and the required documents. Customs brokers must pass an examination and background check to be licensed  by the US Customs and Border Protection agency. Read more about the basics of customs brokerage.
Documentation is a very important aspect of the import process. In order to have a good experience importing, proper document preparation is essential. In 2014, we provided a new website and all the forms you need to import your goods. In case you missed it, there are four basic import documents you need to clear customs:
Commercial Invoice
Packing List
Bill of Lading (BOL)
Arrival Notice
Read more about how these documents work and what you need to get started.
AFC International is committed to bringing importers relevant and current customs brokerage information that will help clear customs both now and in the future. Our year at AFC International was great, and we are looking forward to 2015. Join the conversation below by leaving a comment, or contact us on Twitter, and LinkedIn.