Have Yourself a Merry Little Christmas! For those importing wholesale Christmas items, July and August are busy months to do some wholesale holiday import shopping. Licensed Customs Brokers are always here to help you with your importing needs. In the meantime, review our ultimate guide to importing wholesale Christmas items in time for American consumers to purchase this holiday season.
Understand the Process for Buying Imports Overseas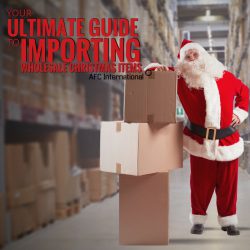 Import clearance from the U.S. Customs and Border Protection (CBP) is your biggest obstacle to overcome when importing wholesale Christmas items. Read our blog on the process for buying imports overseas to know how to prepare orders for shipments to get started.
How to Import Flavored Coffee
Christmas in July is big business in the summer months so it's time to stay alert and caffeinated. Luckily for you, U.S. consumers crave fresh coffee beans and holiday flavored coffee for the holidays. Licensed Customs Brokers can help you with import process hurdles and alert you to coffee imports that are tax free. Put on a pot of coffee and review our importing flavored coffee guidelines.
You need a cup for that coffee, right?
Importing Holiday Seasonal Kitchenware and Cups
Decorative kitchenware, cups and plates are high on the American consumer Christmas wish list. If you're an importer, placing orders earlier in the year and planning for importing wholesale Christmas items saves you both money and time. Line up your logistics and freight quotes in the summer to obtain better rates. Follow our importing seasonal kitchenware and cups plan to learn more.
Time to find Christmas trees next.
Importing Christmas Trees
The artificial Christmas tree market is big business, bringing in on average more than $80 million per year in average annual import value. You should know that there are tough restrictions and inspection tests that are done on those fake trees before they can pass through U.S. borders and head to the stores. Study our Christmas tree imports lesson to get those Christmas trees imported quickly.
Consumers can't string up the tree without Christmas decorations and lights. Find out how to import those items.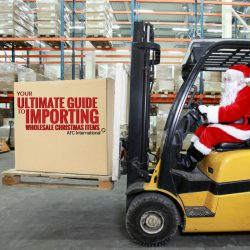 Did you know that Christmas lights have the most rigorous safety inspection and testing requirements from the CBP and the U.S. Consumer Product Safety Commission? When you are importing wholesale Christmas items like decorations and lights, do not let the inspection process red flag your imports at the border. Save Christmas for American consumers by reading our guide to importing Christmas decorations and lights.
You'll need toys under that tree of course.
Import Toys from China
Now how can we forget Christmas without mentioning all the toys you are going to import for the children on the nice list? Some of the most popular toys kids crave are related to Superman and Batman. Worldwide, the toy market is an $80 billion industry. Our top trading partner is China, which has a $590.5 million total trade value with the U.S. Holy imports Batman! Hold on to our cape as we guide you away from the Kryptonite and through the process of importing toys from China correctly.
Connect with a Licensed Customs Broker to make life easier.
Importing Wholesale Christmas Items? Connect with a Customs Broker
Having a stress-free import clearance experience with the CBP is important. Connect with a Licensed Customs Broker that has all the tools necessary to help you when you are importing wholesale Christmas items. The CBP also requires you to file an import entry summary within five working days of the arrival of goods. Customs Brokers can also help you file for entries and extensions to make sure your Christmas imports move through the process properly.